Decades ago, an advertising strategy could be as simple as deciding what percentage of your budget to spend on TV, what percentage to spend on radio, and what percentage to spend on print.
Fast forward a few years, and things have certainly changed…
Remember when this man got the Mitt Romney campaign logo tattooed on his face for $5,000?
In 2016 alone, brands spent over $60 billion on sponsorships. This is astronomical! And experts expect that number to rise to nearly $65 billion in 2017. The age of "selling out" is gone, and brands are utilizing every available channel and platform to reach the masses.
So what does that mean for small businesses and platforms? There's a fallacy in the market that only big time businesses, events, sports teams, and podcasts can land sponsorship dollars. However this just isn't true. Our team has spent the last 15 years working with the small business owners. The rookie podcasts. The new blogs. And the tiny, regional sports teams. Collectively, we've helped these individuals launch sponsorship programs that have brought in $10,000, $50,000, or even $100,000 and more.
Are you interested in learning how to get sponsored? Want to know what it takes to leverage this $60+ billion industry? Below you'll find our 6-step process that we use for all the sponsorship programs we develop. After 15 years of trial and error, these 6 steps have become our proven method for landing key sponsors and marketing partners.
How to Get Sponsored (In 6 Easy Steps)
Step #1: Identify Your Value and Target Market
Value is the heart of sponsorships. It doesn't matter if you are an event, a small business, a blog, a charity, or any other number of things, if you are looking to find sponsors for your platform, you must be able to identify your value. What do you bring to the table? What makes you unique? Why should sponsors care about you and your organization?
First things first, if you do not already have a value proposition for your platform, you need to create one. Quite simply, a value proposition is a statement that quickly highlights what you offer, the benefits you provide, how you improve and/or solve problems, how you're different from the competition, and why you're worth the cost/time/etc.
To craft a quality value proposition, you want to drill down deep. Make it bold and make it memorable. Demonstrate the value customers/users can expect to receive. Differentiate yourself from your competition. And avoid complicated buzzwords. Remember, this value proposition is for your customers, not for you. Write it in a way that makes sense to them.
We'll go more in depth on how to craft value propositions in a future blog post, but for now here are some examples of poor value proposition statements that have been revised to be great:
Bad: Dogstock is a festival for pet owners.
Good: Dogstock is the only event in the tri-state area operating a multi-day, expansive event targeting pet owners with a HHI of over $100,000.
Bad: I run a food blog.
Good: Our food blog has more recipes for those following a Paleo diet than any other blogs in our industry.
Bad: Social media software for marketers.
Good: For non-technical marketers who struggle to find return on investment in social media, our product is a web-based analytics software that translates engagement metrics into actionable revenue metrics.
Marketing extraordinaire Seth Godin and his team put together the following value proposition canvas that does a wonderful job highlighting all the components that make up a great value proposition:
Target Market
Hopefully you have already built a clear picture of your target market as part of running your business, blog, event, etc. However if not, it's never too late. You'll want to build one now as part of Step 1, because you'll need it later when pitching your sponsorship leads.
How do you determine your target market? Well this is a topic that warrants several blogs on its own, however here are a few points to get you started.
First and foremost, if you already have customers/users, look at who they are. What kind of data do you have? Could you survey these individuals to get more information? You want to identify the most common characteristics of this audience and look for trends.
Once you've analyzed internally, you'll want to look externally. Who is your competition? What is their target market? One easy way to identify this is to look at where your competitors are advertising. Are they running print ads in a magazine targeting a specific audience? A local or industry publication? Web ads on certain platforms? If you can see where your competitors are finding their customers, and you can identify the markets these ads are serving, you'll be able to understand who they're trying to reach.
You'll also want to look at your product or service, as well as the marketplace. Who would benefit most from your offerings? Who is your ideal customer?
Once you've begun narrowing down your target market, you'll want to compile some demographic and psychographic data on these individuals. Demographics refer to any type of quantifiable trait among your target market such as age, location, gender, income, martial status, etc. And psychographics refer to any type of personality trait among your target market, such as values, beliefs, behaviors, hobbies, etc.
After you've compiled all this information, try to articulate your target market in one or two sentences. For example, a strong statement identifying a target market could read as: "Males between 35 and 50 years old who live in suburban areas, have 2-4 children, enjoy golfing, and want to look stylish."
This statement gives me a very clear indication of who the market is, articulated with both demographic and psychographic data. I have an age, gender, location, and parental status, as well as needs, wants, desires, and hobbies. It's all there, and I can now understand exactly who I am providing value for.
Once you've identified your value proposition and target market, you need to determine how sponsors can leverage this value through sponsorships. To do this, you must create your assets and your pricing…
Step #2: Identify Your Sponsorship Assets & Pricing
In order to identify the assets you should offer as part of your sponsorship program, there are two basic questions you need to ask yourself:
1. What are the sponsor's objectives?
2. What can I offer them to help achieve these objectives?
It's really that simple. What are they looking to achieve, and how do I get them there? How can it be that easy? Well, legendary leadership coach Zig Ziglar said it best:
"To get what you want, help others get what they want."
By creating a sponsor-first mentality, and working hard to create a program that works for them (and not a self-serving program that works for you), you are all but guaranteed to create a program so valuable, sponsors will be clamoring to get on board.
So, what are some common sponsor objectives? According to sponsorship data firm IEG, here were the most commonly identified objectives based on a 2016 survey with sponsor decision makers:
Brand Awareness

Brand Loyalty

Showcasing Community and Social Responsibility

Reinforcing or Changing Brand Image

Entertainment and Hospitality

Experiential Marketing

Generating Content

Generating Leads

Obtaining Audience Data

Stimulating Sales
To help sponsors achieve these objectives, you need to think about all the properties that comprise your business/event/platform, and the assets that can be leveraged within each. We like to break things down into six categories when identifying assets:
On-Site Assets
Signage (buildings, vehicles, staff, etc.)

Posters

Fliers

On-Site Representation Rights

On-Site Real Estate

Sampling Rights

Giveaways & Sweepstakes

Logo on Collateral

Podium/Stage Time

Etc.
Digital Assets
On-Site Banner Advertisements

Site Takeovers

Audio/Visual Advertisements

Email Newsletter Banners

Branded Social Media Posts & Mentions

Digital Giveaways
Hospitality Assets
Bulk Tickets for Sponsors

VIP Areas

Reserved Seating

Celebrity/Talent Access

Exclusive Events, Meet & Greets, Etc.

Special Meal and Beverage Packages
Content Assets
Sponsor-Branded Articles

Behind-the-Scenes Videos

Sponsor Press Releases

Sponsor-Exclusive Email Newsletters

Sponsor Interviews

Use of Marks, Images, and Other Content
Advertising Assets
"Sponsored By" Inclusion in Newspaper Ads

Sponsor Logo on Banner Ads

Co-Branded YouTube and other Digital Video Ads

Sponsor Logo on Direct Mail Efforts
Exclusivity Assets
Exclusive Category Sponsor

Event Title/Naming Rights

"Official Sponsor" Designation

Exclusive Content Section on Website

Exclusive Collateral Branding Status
Once you've exhausted your list of sponsorship assets, it's time to price them. There is nothing that will lose your credibility with a sponsor lead faster than being unable to explain why you're charging the amounts you are for your sponsorship assets. As such, you need to use a specific, justifiable system of pricing for each item in your sponsorship inventory.
Here at SilverCrate, we have developed a system that takes market value, brand value, and competitive analysis into consideration, and generates a very realistic sales price for our clients' assets. Here is the breakdown of how this system works:
Market Value Analysis

Find alternative ways sponsors could reach the same audience you're offering, and determine what those efforts would cost

Competitive Analysis

Look at platforms offering sponsorship to your same audience, and obtain their sponsorship pricing for comparison

Brand Value Analysis

Add up the intangibles, and everything you are offering that make your opportunity a unique value

Pricing Breakdown

Using data from your research, compile specific, justifiable pricing for each of your objectives
Though time consuming, building a strong pricing structure is one of the most important elements of any strong sponsorship program.
To learn more about each step in the pricing process, and obtain our Sponsorship Pricing Worksheet that includes all the formulas you need to develop your own pricing structure, be sure to visit the Six-Figure Sponsorships Bootcamp here.
Now that you have your sponsorship assets priced and ready to go, how do you show them off to your prospects?
Step #3: Build the Perfect Sponsorship Proposal
Once you've identified the value you're creating, it's time to articulate that value to sponsors. This is best achieved through a well-developed Sponsorship Proposal Deck. Arguably the most vital component of any sponsorship pitch, we've seen proposals range from a half-page word document to a 30-page professionally designed package. The length will vary based on your business, prospect, and opportunity, however all the proposals we build for our clients follow our proven outline:
Cover
Sponsorship proposals are a situation where the book is almost always judged by its cover. Take the time to put together a clean, eye-catching cover that helps the recipient visualize the opportunity. More than just a logo, try to insert something that highlights the value of what you're offering. For example, if you were pitching sponsorship for your racing team, you'd want to include the absolute best image you have of your car racing across the finish line in first place.
Don't have a designer on staff? There are plenty of online tools to help you create great designs with just a few mouse clicks. Personally, we're all big fans of Canva, which has a ton of excellent drag-and-drop templates for a variety of applications.
Personalization
One of the most often overlooked pieces of a sponsorship proposal, adding some sort of personalized information is vital if you want to maximize your chances of landing that sponsor. Ideally you should dedicate a full page to this, and include your prospect's name and title, as well as a high-res version of their brand's logo.
Opportunity Overview
From there, you want to provide prospects with a high-level overview of the opportunity you are offering. The value proposition you outlined in Step #1 should be front and center here, as the prospect needs to know exactly how this opportunity will bring them value.
You'll also want to include all the pertinent details of the sponsorship. If it's for an event, dates, time and location information should all go here. If it's a blog or website, talk about the readership and size of your mailing list. By the end of this section your prospect should have a clear understanding of the opportunity that's on the table.
Target Market
A clear outline of your target market is a must for any sponsorship proposal. Prospects need to know if there is proper market overlap. You should include a profile of who your business/event/platform targets, complete with demographics (such as age, sex, location), and psychographics (desires, fears, needs and wants).
It's tempting to list a broad market in hopes of making it inclusive of a variety of sponsors. However this will only cause you issues in the long run. No company, large or small, can compete in a market that is too large and vague. Target Markets such as "All Pet Owners" or "All Women" are not nearly specific enough, and will force you to spend a great deal of time and money chasing the wrong individuals. Even mass-market products like Facebook and Coca-Cola have specific, detailed target markets they focus on at various stages of their product lifestyle. Be sure to do the same, and show the sponsor leads reading your proposal that you know exactly who you are looking to target.
Advertising and Marketing Plan
Sponsors want to know they are joining a winning team. If you're not out there promoting your event, platform, blog, business, etc., why will they want to invest money to partner with you?
Show your leads that you're actively pushing your platform forward. Use this part of the sponsorship proposal to discuss your own advertising and marketing efforts, and how the sponsor would benefit in turn if they partner with you.
Activation Ideas
Now is your time to shine. Showcase all the hard work and effort you've put into understanding your sponsor lead's needs, wants, and objectives, and create a series of "Activation Ideas" for their brand. These are not standardized, one-size-fits-all, "Gold, Silver, Bronze" sponsorship packages. No, these are customizable programs developed specifically for this lead.
Highlight a selection of your sponsorship assets that you believe will best serve the sponsor, and identify exactly what objectives you intend to achieve for them with this activation. Also be sure to reiterate that everything is customizable, and that this is by no means a "yes or no" sponsorship package.
The number of Activation Ideas you include is entirely up to you, however we recommend somewhere between 2 and 4. By including multiple, the sponsor lead will develop a broader understanding of just how robust your sponsorship programs are, and how there are activations for nearly every type of objective they could be looking to achieve.
Pricing
It's tempting to put pricing in your proposal. It really is. You feel like it's incomplete without it. However whenever possible, we encourage you to save pricing for a separate follow-up conversation with your prospect. Your sponsorship proposal is about excitement. It's about visualization. It's painting a picture for your prospect, one that has them immediately picking up the phone to call you to learn more.
If price is included at this stage, you've created a decision point for your lead, which means there is the potential for "no." Worse yet, you're not even going to be in the room while they are mulling over this decision. They will be weighing the pros and cons of your proposal and pricing blind.
By leaving price off your initial sponsorship proposal, you have greatly increased your chance for a follow up conversation. This conversation is where you will obtain even more understanding of the sponsor's objectives, wants, and feelings on the activation ideas you submitted. From there, you can further customize your suggested activations until you know they are perfect. Then, and only then, will you want to start discussing pricing with your sponsor. 
Step #4: Find & Rank Qualified Leads
Now that your assets are priced, it's time to start looking for leads.
As mentioned earlier, sponsorship spending has grown to an astounding $60 billion per year. But what brands are spending the majority of this money? The graph below provides a good look at the top sponsorship spenders by category:
Having an understanding of who is already spending money on sponsorships is key when searching for leads, as brands in these categories will be much more likely to see the value in what you're offering. Brands already participating in similar sponsorships understand the value sponsorship opportunities bring. They won't need to be sold on sponsorships as a concept…they'll just need to be sold on your particular sponsorship.
So, how do you go about finding leads for your specific sponsorships? We suggest breaking down your lead research into 3 categories: audience, competition, and marketplace.
First and foremost, start with your audience. Take a long hard look at the target market you identified earlier in the 6-step process. What are their wants and needs? What does a typical day look like for them? What products and services play a key role in this lifestyle? Also, whom are they influencing? Even if a brand is made to serve a child's need, the parents will be the one influencing the decision with their pocketbooks. Make sure to take these influencer decisions into consideration as well.
As you think through your target market and the products and services that influence them daily, begin to compile all the relevant brands you can think of. Big or small, just start listing. The goal with your research here is to get a list of at least 100 brands or businesses. At this stage there are no bad ideas, just list, list, list...
After reviewing and listing every brand that targets your specific audience, you'll want to move on to reviewing your competitors. What businesses, platforms, websites, events are competing directly with you? Who is indirectly competing with you? For example, if I am running an event for middle-aged male golfers, while I may not be in direct competition with a blog for middle-aged male golfers (as they're a blog looking for readers and I'm an event looking for attendees), they are still targeting my same audience. Anything trying to catch the attention of your same audience is worth noting.
As you compile this list of direct and indirect competitors, note which ones currently have sponsors and advertising partners. Jot down these brands. If they are already sponsoring your competitors in order to reach your audience, odds are they'll be interested in the opportunity to partner with you as well to further enhance their efforts to reach this market.
Finally, you'll want to conduct marketplace research. What new products or brands are hitting the market and trying to connect with your core audience? Are there notable brands with new marketing/advertising hires? Companies looking to make moves, capture market share, or otherwise disrupt? Are any of these companies already participating in sponsorships?
If you catch a company in the middle of reorganization, market push, or a new product/campaign launch, there's a strong chance they'll be more receptive to new ideas and opportunities (like your sponsorship proposal). Much like a driver equipping their car with snow tires and chains before climbing the snow packed mountain, brands looking to achieve new objectives and reach uncharted territory will be interested in new tools to help them with their journey.
After conducting these three phases of research, you should have a decent list of potential sponsor brands. The next step is to find the decision makers within these organizations. We're going to cover this topic with an entire blog post of its own soon, but here are a few tips to get you started:
Leverage LinkedIn

Search for mutual connections

Do you know anyone who knows someone at one of these companies? Can you get an introduction?

Search by role

Filter search results to seek out marketing roles, event roles, communication roles, and other positions that might be involved in the sponsorship evaluation process.
Use LinkedIn to find the human beings behind the companies on your list
Review Company Press Releases

Look for press releases from the companies you're soliciting. Is there a contact person listed and/or company rep quoted? Odd are this individual, if not responsible for sponsorship decisions, will know how to put you in contact with the right decision maker.
Read Relevant Company Articles

Depending on the size of the company you're targeting, their previous sponsorship deals may have made the news. Try and find recent articles about any sponsorship deals they may have inked. Within these articles, do they have a company rep quoted? This would be a great person to target with your own proposal.
Once you've got a list of contact names at each company, use Google to find the company's email structure to ensure your messages make it through. For example, if I am trying to reach someone at Dell computers, and Dell's website is www.dell.com, I'd Google something like "@ dell.com email" or "@ dell.com email structure" and see if I can determine whether it's firstnamelastname@dell.com, first name_lastname@dell.com, or something else entirely.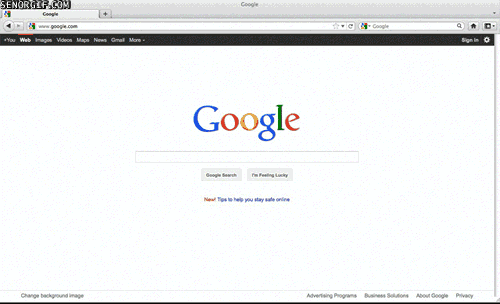 Use Google to fire up your lead search!
A little trick is to search the "Privacy Policy" or "Terms of Service" agreements buried at the bottom of most corporate web pages. Often times these lengthy legal boilerplate pages will have a contact person listed somewhere in the text, complete with their corporate email address. This should give you a surefire way of knowing the structure of your lead's main corporate email address.
Step #5: Perfect Your Pitch and Seal the Deal
Now that you're got your sponsor leads and emails ready to go, it's time to reach out. Your leads are most likely inundated with requests daily. Make sure you stand out by writing the perfect sponsorship letter. 
Here at SilverCrate, we have spent years perfecting the sponsorship letter. To make your life easier, we've taken these years of experimenting with various templates, and distilled it down into the SilverCrate Email Template Archive. This document will provide you with some tips and tricks for writing the perfect sponsorship email, and includes a selection of our highest-converting plug-and play templates to use when you start reaching out to your leads.
Download your copy of the SilverCrate Email Template Archive here:
SilverCrate Email Letter Templates
Just remember, keep the focus on your sponsors! They want to know what in it for them if they're going to keep reading…
Step #6: Generate Recurring Revenue Through Reporting
So, you've followed the first 5 steps of our process, and have started landing some sponsorship deals. Congratulations! While you should of course take a minute to celebrate, your work is not quite done yet.
Often overlooked, Sponsorship Reports are a vital part of building a profitable sponsorship program. Make sure you allocate time of these, as reports are the best opportunity to showcase your value and ROI to your sponsors. Reports will remind them why your partnership was so fruitful. Be sure to include vital sponsorship statistics, photos, links of coverage, and anything else that showcases all the value received. A great time saving trick is to repurpose the template you already put together for your sponsorship proposal. Throw in all your info and images here as opposed to starting from scratch.
Repurpose your sponsorship proposal as a reporting template to save time
Why is the reporting phase so important? Because it's your best opportunity to turn one-time sponsors into recurring revenue. It's estimated that in business, it costs nearly 5 times as much to find a new customer than it does to keep an existing one. Sponsorships are no different. You worked so hard to land your sponsors. Take the time to keep them happy and returning through the use of a strong reporting system.
Reports show your sponsors that you're serious about their success. Identify what you've learned from your partnership, and how you'd improve on your efforts to achieve added value for them in the future. This will make them feel good about what they've already invest in your sponsorship program, and more willing to invest again, as you've gotten them excited about the future.
There you have it, the proven 6-step process you can use to get your program off the ground and generating revenue in a matter of weeks. These steps were developed over years of trial and error, and have helped us secure sponsorship agreements for small businesses, events, charities, and content creators across the globe. Use them to get started on your own program today!
Please reload